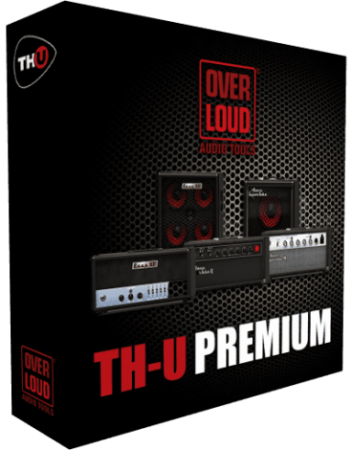 Overloud TH-U Premium 1.4.7 STANDALONE, VST, VST3, AAX (x64) + Library RePack by VR [En] Версия программы: 1.4.7
Официальный сайт: Overloud
Язык интерфейса: Английский
Лечение: не требуется (

Дополнительная информация:239 models! Get the world's largest collection into your computer and mobile device
Includes both the amp modeling and the amp capturing technology
89 guitar amplifiers and 4 bass amplifiers. See full model list...
50 guitar cabinets and 2 bass cabinets
77 pedal and rack effects
18 microphone models, with up to four mics on each cabinet
More than 1000 presets covering all musical styles + FREE PRESETS every month! See them...
Randall®, DVmark®, Brunetti® and THD® authorized models approved by the original manufacturers
Amp Tweak technology, allows you to mod the amplifiers by changing the preamp and poweramp tube models, as well as simulating the action of a variac
Rig Player (with 20 factory rigs), allows you to reproduce rig models created by capturing real setups
One entire preset bank dedicated to bass.
4th generation analog emulation technology, with proprietary nonlinear processing algorithm
3D, gap-less positioning of microphones and room simulation
Advanced cabinet emulations with ReSPiRe 2 technology
Built-in convolver to load external guitar cab IRs
Flexible sound chain with split point for parallel processing
Fully customizable MIDI control for live usage
BREVERB and SpringAge based reverb effects
Full compatibility with TH3 user presets
More than 8000 captured rigs, from the world's largest library!
Mobile version available. See TH-U iOS...
SuperCabinet, revolutionary IR processor, included
Scenes allow to instantly recall different models configurations in the preset.
Enhanced cabinet module with Fluid Convolution
Double IR Loader integrated into the cabinet module [/spoiler][spoiler=Что нового в 1.4.7:]
Updates for old rigs (American Classics etc.) and 3 new:
Choptones Gampe VL102 - Ampeg VL1002 (guitar amp)
Choptones Leny G100L - Laney GH100L
LRS The Snake - Marshall 1959BM (Bernie Marsden, Whitesnake) [/spoiler][spoiler=Отличие от официальной версии:]
Инсталлятор пролечен TEAM VR
[/spoiler][spoiler=Установка библиотек:]
Перетащите библиотеку(и) в окно плагина
[/spoiler][spoiler=Promo]



[/spoiler]

Скриншоты: