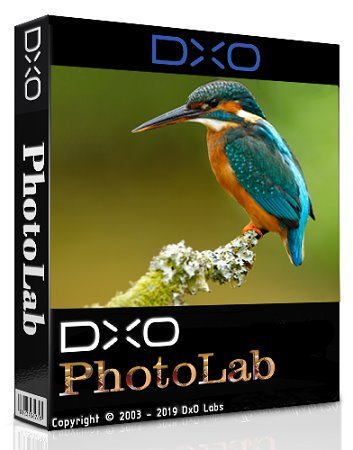 DxO PhotoLab Elite 5.2.0 build 4732 RePack by KpoJIuK [Multi] Версия программы: 5.2.0 build 4732
Официальный сайт: DxO Labs
Официальный сайт сборщика: repack.me
Язык интерфейса: Английский и другие
Лечение: не требуется

Особенности RePack'a:Общая информация:
Тип: установка x64
Языки: мульти, русского нет
Лечение: MPT
Параметры командной строки:
Тихая установка + русификация: /S /RUS
Тихая установка: /S
Выбор места установки: /D=ПУТЬ
Параметр /D=ПУТЬ указывается последним [/spoiler][spoiler=Новое в версии:]New in DxO PhotoLab 5.2
New features
• Metadata Conflict Resolution: DxO PhotoLab version 5.2 introduces new conflict metadata resolution.
When "metadata synchronization" is not activated in the Preferences panel, and a user modifies or updates
image metadata in a third-party application, PhotoLab will display an icon on those specific images that
indicates a conflict with its database. A new dialog box allows users to resolve the conflict by choosing
between "Write to image" (use data from the database) or "read from image" (accept the changes from the
image XMP).
• Fujifilm film-simulations compatibility: After introducing X-Trans compatibility in PhotoLab 5.0, version 5.2
now brings Fujifilm Film Simulation compatibility within the color rendering palette. It is also possible to
automatically apply the camera body rendering to Fuji RAW images using a new option in the preferences
panel.
• New Custom Crop Ratios: DxO PhotoLab 5.2 improves the ability to create custom crop ratios in the crop
palette
• You can now synchronize the motion of control lines and the color picker by pressing the Control key while
moving the lines
• The GPS coordinates panel can be expanded/collapsed in the EXIF palette
• The search bar now proposes auto-suggestions for camera manufacturers, bodies and lenses.
• The order of the filmstrip sorting menu has been updated
• The camera-matching color rendering is now displayed by default in the color rendering palette (when
available)
• New exposure values, Bulb and FlexiblePriorityAE, have been added to the Metadata panel
New supported cameras
• DJI Mavic 3 / Mavic 3 Cine
• Fuji X-Pro1
• Fuji X-E1
• Fuji X-M1
• Fuji X20
• Fuji X30
• Leica M10-R
• Leica SL2
• Leica SL2-S
• Nikon Z9
• Sigma Fp-L
• Sony A7 IV
Bug fixes
• Fixed an incorrect behavior when applying the "revert to original" command to a batch of images
• Fixed an issue where the image counter was not updated when removing an image from a folder
• Fixed an issue where the "Delete unused keywords from Database" menu entry did not properly remove all
unused keywords in some cases
• An error message no longer appears when you draw a Control Line outside of an image when a mask has
been applied
• The folder selection popup in the Export module now displays all the folders correctly
• Correction settings from custom presets are now upgraded during migration from a previous DxO PhotoLab
version
• Minor bug fixes
Known Limitations
• For Fujifilm X-Trans RAW files, only HQ and DeepPRIME denoising options are available; PRIME is not. [/spoiler][spoiler=Основные возможности DxO PhotoLab:]
• Оптимизирует динамический диапазон вашего изображения и отображает детали как из переэкспонированных областей.
• Интеллектуально повышает местный контраст и эффективно удаляет отдаленный дым.
• Автоматически деноминирует изображения ISO RAW и восстанавливает точные детали и цвета на основе наших эксклюзивных алгоритмов.
• Используйте свое устройство с автоматизированными корректировками, основанными на известной научной экспертизе DxO в области измерения и калибровки.
• Вручную выбирайте область редактирования, просто нажимая на часть изображения, которое Вы хотите настроить.
• Имитирует градуированный фильтр ND и позволяет применять художественные эффекты.
• Позволяет удалить пылевые пятна или нежелательные предметы с фотографий.
• Позволяет скопировать и вставить настройки с одного изображения на другое.
• 30 встроенных пресетов, полностью настраиваемых, чтобы придать вашим фотографиям понравившийся вам вид.
• Множественный экспорт в один клик.
• Экспорт в несколько форматов для Интернета, печати или резервного копирования, экспортируйте в соцсети, фоторедакторы.
[/spoiler]

Скриншоты: